Posted 08/30/2017 by Michael Molenda
It's not often that a guitar manufacturer—at least one bearing models you'd want to check out and play—presents its "top of the line," and those beauties cost less than $400 (street prices). But Mitchell's recent foray into the electric field—they've offered acoustic guitars for years—was a big play with small pricing. (You can read Dave Hunter's reviews of Mitchell's MD400 and MS400 electrics online at guitarplayer.com or in the July 2017 issue of GP.) However, the upper-end Mitchells are far from being simply good lookers at bargain prices that aren't really viable as working guitars. As with the MD and MS models, the HD400 and TD400 are great values, sure, but they are also serious guitars that won't falter on stage or in the studio. And, man, they are fun to play.
OVERALL CONSTRUCTION
Built quality for both guitars is impressive for the price. The bolt-on necks are locked-down tightly with no errant spacing in the neck pockets, all hardware is taut (there are no rattles, or loose knobs, and so on), and, for the most part, the finishes are excellent—excepting some minor tooling scratches and paint dappling around the pickup cavities on the HD400. The frets are seated nicely into the fretboard, although the edges are a bit rough, and the abalone dot inlays are perfect.
HD400
Designed as a shred machine, the HD400's flat, satin-finished neck and its comfy body bevels make it near effortless to play, and the curved detents on the bouts provide easy access to the 24th fret. No speed bumps here!
The Master Volume knob is well positioned for pinky manipulations for swells and dynamic level changes, though the Master Tone is a bit far afield for rapid adjustments on the fly. Intonation is spot-on, and the locking nut and Floyd Rose Double-Locking tremolo ensures a return to pitch even after brutal dive bombs. In fact, I put the HD400 flat on its back and wrenched the tremolo like a yoyo, and the tuning was just a few cents off.
In a live situation, it would have qualified as "in tune." Tonally, the high-output neck and bridge humbuckers and middle-position single-coil are voiced for clarity and impact—no surprise on a guitar intended for fast runs, intricate riffs, and chugging chords with staccato stops and starts. There's a bounty of articulate midrange content in all three pickups, and you can even emulate some jazzy lines with the neck humbucker if you knock back the Tone knob and play clean.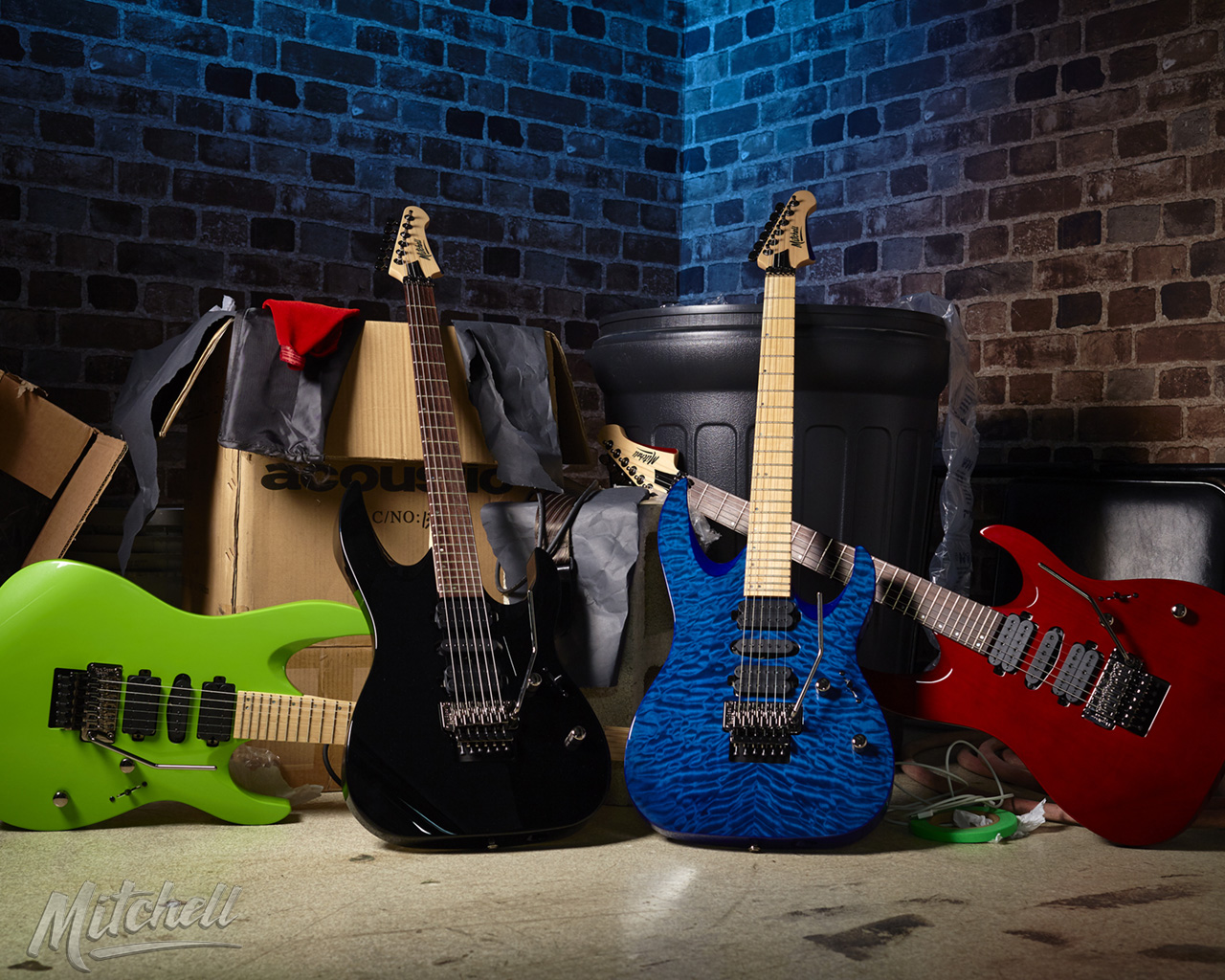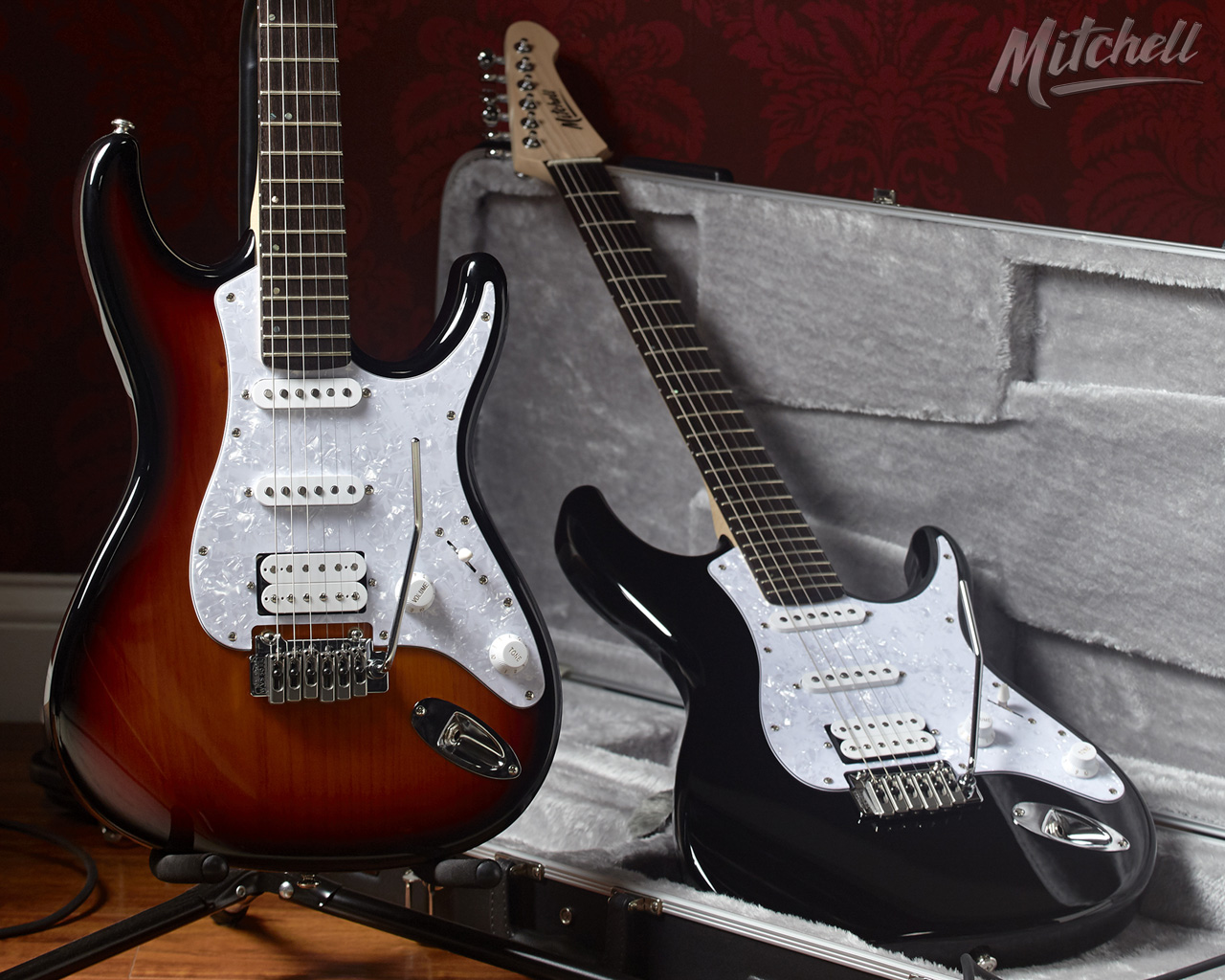 TD400
For more traditional guitarists, the TD400 evokes a more conventional silhouette and a versatile HSS pickup configuration. For the shred-inclined, it doesn't give much away to its HD400 sibling. The satin neck is super fast, you can get to all 22 frets, and the Wilkinson tremolo is smooth in both directions. You can bring on some tuning "blur" if you get too aggressive with the bar—we're not locked-down here, kids—but the TD400 maintains pitch and intonation very well during less than Hulk-like abuse.
The neck single-coil produces clear tones with a bit of low-mid muscle, and using the neck and middle single-coils together gives you some great jangle and taut lows. Selecting the coil-tap on the humbucker delivers sparkle and bell-like sheen, and letting the full-on humbucker tone rage in its bridge position is a beautiful thing for stabbing rhythm parts and soaring single-note lines.
A FINAL WORD
Here's a good tip if you go for either the HD400 or TD400—just keep your mouth shut and play (to paraphrase Frank Zappa). You'll likely sound great and play great while wielding these guitars, so there's no reason to discuss price and get into a "budget/value" conversation with other guitarists. Just wow 'em. That's comment enough in my book.
Guitar Player Review: Mitchell Guitars MD400 and MS400
Posted 06/29/2017 by Dave Hunter
A pair of sub-$500 imports exclusive to the country's largest guitar chain might not whet the average reviewer's appetite, but the Mitchell MS400 and MD400 models available from Guitar Center and Musician's Friend offered some pleasant surprises right out of the box.
For instance, with its glued-in neck, mahogany/maple/rosewood construction, single cutaway, 24.75″ scale length, and dual humbucker configuration, the MS400 ticks all the boxes for one of today's major archetypes. Mitchell has also thrown some tasty design touches into the formula: The deep cutaway is beveled front and back, the Tune-o-matic bridge is partnered with through-body stringing, control knobs are recessed into the top, and the locking tuners feel solid and boast an efficient 18:1 ratio.
Beyond all this, there's an impressive coherence of aesthetics too. The way, for example, the double-slash fingerboard inlays are echoed in the swoop of the string ferrules, the headstock tip, and the cover of the dual-action trussrod; while flame maple binding and a quilted-maple top veneer further dress up the package. The slim-C neck feels great, the fretwork is good, and the guitar played extremely well after a slight tweak of the trussrod. One note on both guitars: the positioning of the output jack does keep the cord wrapped out of the way, as intended, but makes it impossible to set the guitars on their butt-ends to lean against the amp. And if you step on the cord, you're likely to tear a chunk of wood from the side of the guitar's body rather than just pull out the plug.
I tested the MS400 through a plexi-style head and 2×12 cab and an AC15-inspired 1×12 combo. No surprise that at 13.28kΩ the bridge pickup is predisposed toward serious rock. There's not a lot of sweetness or chime here, even at cleaner amp settings, but a barking, slightly nasal squawk that drives the amp hard for aggressive rhythm. It really shined, though, with a JHS Angry Charlie distortion pedal applied for hairy, squealing lead tones. The neck pickup (7.94kΩ) achieves some rich, bluesy semi-clean tones and sings beautifully through overdrive, while both pickups' split-coil sounds are admirably bright and jangly.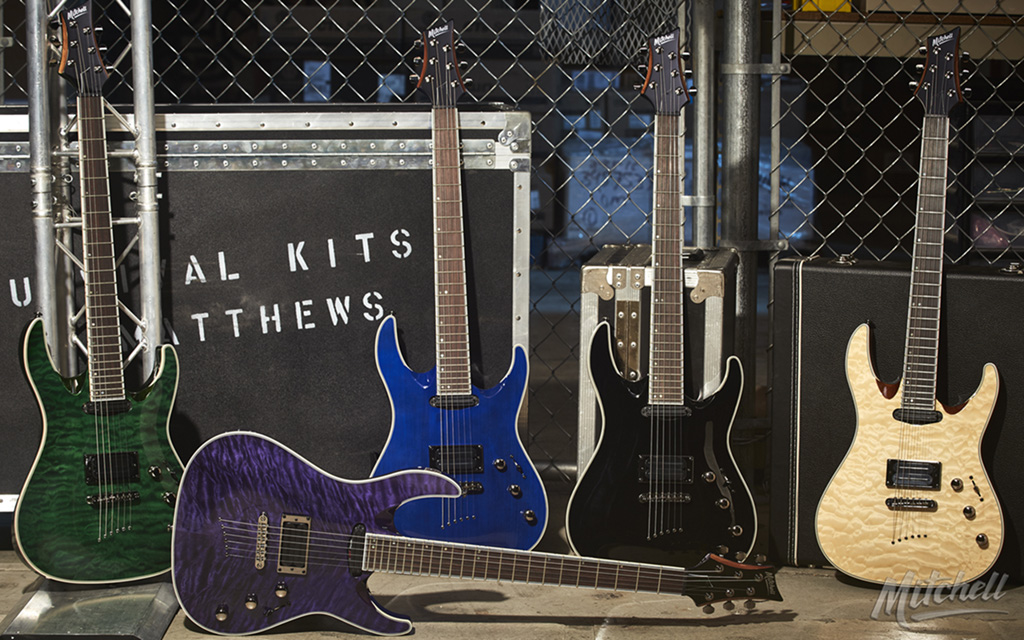 While the MS400 oozes modern design, its double-cutaway sibling, the MD400, has an even more contemporary appearance, and is significantly more "rawk" besides—or so it would seem at first glance. Not only do the long body horns lean toward a shred-certified look, but the pickup selection—a full-size dual-blade humbucker in the bridge position and a single-coil-sized humbucker in the neck—imply more incendiary potential, although the bridge unit's reading of 10.86kΩ (less than that of the MS400's) might run counter to that assessment. Other than noting the body shape, the tasteful multi-ply binding, the offset abalone-dot fingerboard inlays, and the 25.5″ scale length with 24 medium-jumbo frets and a flatter radius, there's less to say here because body and neck woods, hardware, and control layout all echo that of the MS400. Likewise, construction and playability were similarly good after a very slight trussrod adjustment.
Perhaps surprisingly given the optics here, the MD400's bridge pickup displayed more nuanced musicality and greater harmonic sparkle than that of its single-cut sibling, but the slightly gentler output and more overtone-laden 25.5″ template likely had something to do with that. Via distortion, this translated to a little extra sting in the upper mids and highs, with an eviscerating bite when hit hard, which really helped the guitar cut through the mud.
The neck pickup was rich and open, with just a little grit amid the airy warmth to lend texture to arpeggiated balladry or bluesy riffing. Tasty stuff. Ultimately, both guitars offer a lot in all essential departments for looks, playability, and tone, and provide excellent bang for the buck—again impressing me with what our friends offshore can achieve at this price point.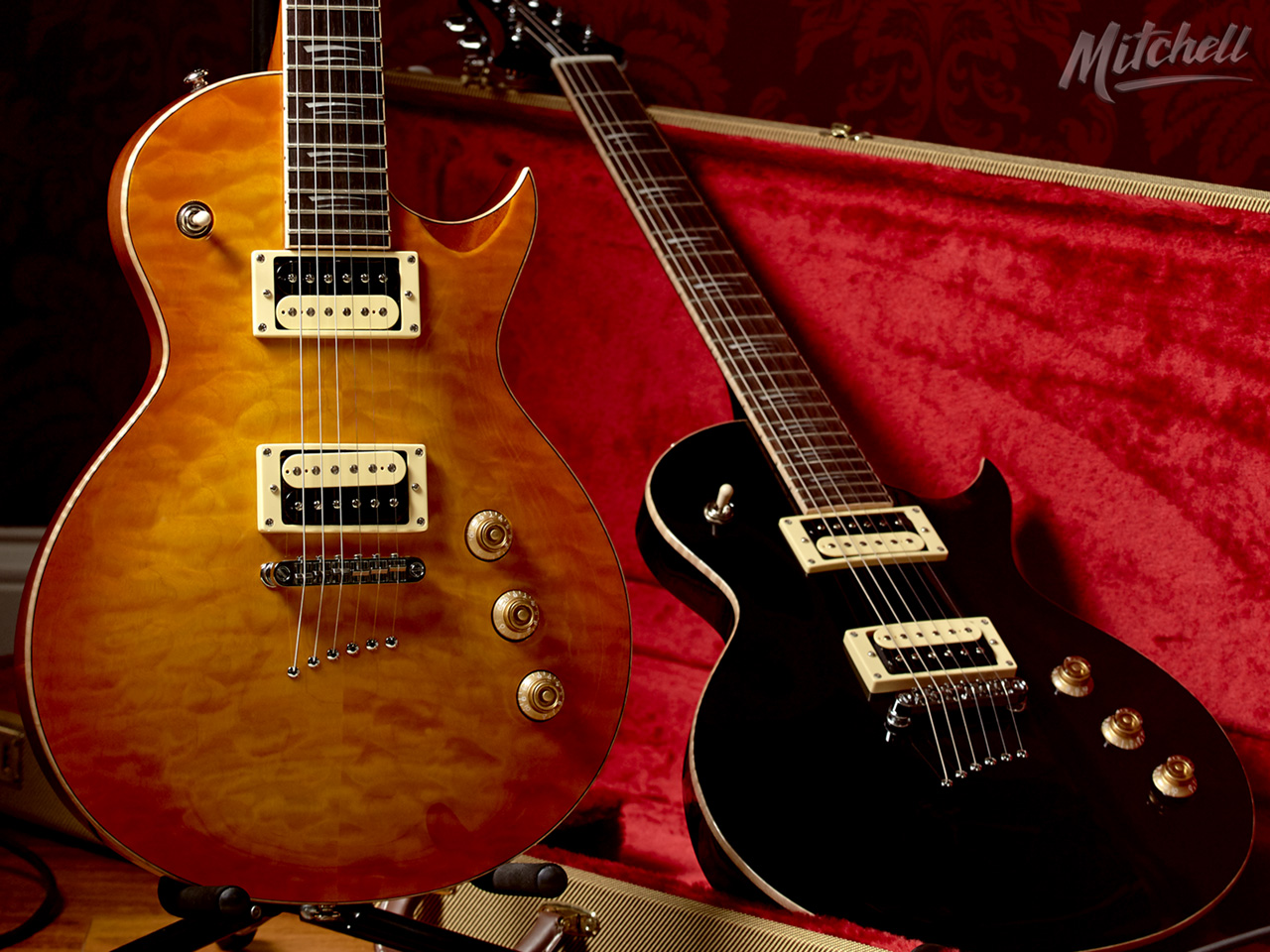 MS400 SPECIFICATIONS
PRICE $449 street, with trans-finish quilt top; $399 in solid colors
NUT WIDTH 1.65″, Graph Tech Tusq XL
NECK Mahogany with scarf joint, 24.75″ scale
FRETBOARD Rosewood, 11.8″ radius
FRETS 22 jumbo
TUNERS Die-cast locking
BODY Mahogany with quilted-maple veneer
BRIDGE Tune-o-matic style with through-body stringing
PICKUPS Two Alnico V humbuckers
CONTROLS Individual Volume and master Tone controls, 3-way switch, push-pull switch on Tone pot for coil-splitting
FACTORY STRINGS D'Addario, .009-.042
WEIGHT 6.8 lbs
BUILT China
KUDOS Good build quality and impressive looks for its price. Confident playing feel. Entirely usable set of tones.
CONCERNS Jack positioning not ideal.
MD400 SPECIFICATIONS
PRICE $449 street with trans-finish quilt top; $399 in solid colors
NUT WIDTH 1.65″, Graph Tech Tusq XL
NECK Mahogany with scarf joint, 24.75″ scale
FRETBOARD Rosewood, 15.75″ radius
FRETS 24 medium-jumbo
TUNERS Die-cast locking
BODY Mahogany with quilted-maple veneer
BRIDGE Tune-o-matic style with through-body stringing
PICKUPS Full-size Alnico V dual-blade humbucker (bridge), single-coilsized humbucker (neck)
CONTROLS Individual Volume and master Tone controls, 3-way switch, push-pull switch on Tone pot for coil-splitting
FACTORY STRINGS D'Addario, .009-.042
WEIGHT 6.9 lbs
BUILT China
KUDOS An elegant and easy playing electric for the money. Able rock tones aplenty.
CONCERNS Jack positioning not ideal.